Over the weekend, I ran the Clearwater Distance Classic Half Marathon. While I have a full recap tomorrow, I will say that I ate those four bridges for breakfast and I performed a lot better than I did at the Holiday Halfathon last month! I'm sure my performance improvement is directly related to sleeping better, training better and of course, eating better particularly drinking less alcoholic beverages.
Sunday's half marathon really helped me gauge my performance at upcoming Celebration Half Marathon. With no bridges and a completely flat course, I should finish close to last year's time (2:15). But more importantly, the Clearwater Distance Classic Half Marathon is an even better predictor as to how I will perform at this year's First Watch Sarasota Half Marathon!
Although last year I ran the half marathon, this year I'm participating in the relay with my friend, Daffodil. With all the bridges I battled over the past few months (training on the Upper Tampa Bay Trail, New York City Marathon, the four massive bridges of the Clearwater Half and even the "hills" of Space Coast Marathon), Sarasota Half should be a walk in the park!
This will be my third year racing at the First Watch Sarasota Half Marathon and I am excited to run this gorgeous course and relay with Daffodil, a wonderful friend and athlete.
I chose to run First Watch Sarasota Half Marathon Relay and the first six miles with the bridges for six reasons:
1) I love the challenge of bridges.
2) I absolutely love the view and all the spectators!
3) The medal is always huge and AH-MAZING and I'm a bling whore. #blingwhore
4) It's the tenth anniversary and I'm a sucker for anniversary medals. #willrunforbling
5) This year, all participants will receive a commemorative jacket while supplies last.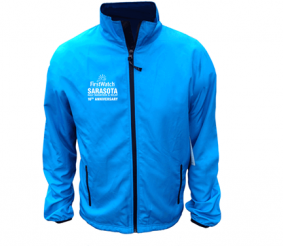 6) I have the Florida Beach Halfathon the week after the First Watch Sarasota Half Marathon.
The First Watch Sarasota Half Marathon course begins adjacent to the Van Wezel Performing Arts Hall and as we make our way over the bridges to St. Armand's Circle, the sun begins to rise. The bright orange and pink sky smiles at us on the return trip over the bridges into the downtown and the view from the top of the bridge is breathtaking!
For the First Watch Sarasota Half Marathon, I'm hoping to finish the first six miles around an hour. If I keep on training like I am, that goal should be totally attainable. Of course, in true stunner runner style, Daffodil and I will need to sort out our matching outfits for our relay team. After all, it's important that we are able to find each other in the relay corral and the last 1/10 of a mile so we can run to the finish together. How fun is that?!
Unfortunately for the rest of you runner lot, the relay option is sold out but at last check on the First Watch Sarasota Half Marathon Facebook page, there were less than 200 spots remaining for the half marathon option.  With that tidbit of information, you will not want to miss out on this amazing #runSarasota race! Register here today!
Monday I rested, but today I was ready to tackle some sprints. I stuck to my plan and ran 6 x 800s while wearing my brand spanking new heart rate monitor (HRM).  My old one just didn't jive with my new Garmin 310XT. It failed to record an accurate calorie burn or heart rate percentage. According to DC Rainmaker, I needed to replace it and so I did. And what a difference the right device makes! Check out these numbers!

I really need to research training with a heart rate monitor and the zones because obviously hitting 98% of my Maximum Heart Rate is too much. I may actually need to slow down to maximize my performance which is madness!
The heart and the data don't lie, folks! I KNEW I WAS PUSHING MYSELF! I feel like I'm dying when I run hard because I am pushing it hard, despite all the flack I took from my running friends about not pushing it.
For today's sprints, I ran my race pace for the ½ mile sprints. I only gave myself a minute to recover between sprints and tried to keep my recovery pace between sprints to a light jog. I'm really impressed that I managed to keep my 6 x 800s under 5 minutes.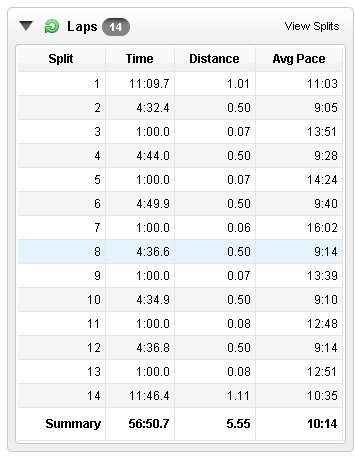 Sticking to my training plan, tomorrow is a core workout day and Thursday will be a tempo run. Although I missed this week's Body Pump class due to a rest day after the half marathon, I will be ready to face Body Pump again on Friday. Saturday will be a rest day to save my legs for the Celebration Half Marathon.
In other news…Last night, I joined some of my former teacher friends for a retirement party. It had been 13 years since I last saw these ladies and what a great time we had! How is it that everyone looks the same thirteen years later? We need to bottle up that anti-aging juice and sell it!
On more than one occasion I was asked the question, "Do you miss teaching?" And my replay is always the same. "Nope, I don't miss it one bit." Every now and then, I miss working with students, but I don't miss the stress.
My last year teaching (2000-2001) was my toughest year. Between the discipline problems, struggling students and demands placed on us by the state, it broke me. The stress stole my love for teaching and my spirit. After seven years of teaching, I was burned out and ready to start a new chapter in my life: building a family.
Although I'm not in the classroom, I'm still teaching, as you may have noticed in Sunday's Pinning and Planning post. You can take the teacher out of the classroom but you can't take the teaching out of the teacher. It's who we are.
Congratulations on your retirement, Sue! Here's to enjoying many pajama days and life outside of school!