It's a New Year and a new focus for Run DMT! Two weeks ago, I kicked off training for marathon number ten. With a New Year , a new marathon plan and a new set of goals, I wanted to train differently this time . Therefore, I adjusted my work/blogging schedule, workout days and running days to give myself some room to breathe and decompress. Not workout. Not work, but just sit back and breathe and enjoy being a SAHM while it lasts. Like I said in a previous post, I need balance. I'm craving it.
If you read my Pinning and Planning last Sunday, you would have read that I'm training with a heart rate monitor (HRM). I can't seem to get any faster and I want to rule out the mental block factor. I've become such a slow, slacker runner and I'm not sure if I've been using my plantar fasciitis as a crutch preventing me from improving.
Plus, I gained close to ten between October and December. Rumor has it, that some marathoners typically gain 3-5 pounds the last week of training. As strange as it may sound considering the ridiculous number of calories burned during the long mile training runs and the marathon, it does happen as Runner's World explains.
Well since I ran three marathons in seven weeks, was ravenously hungry during training runs and after completing the marathons and celebrating the holidays with way too many craft beers and cocktails, I may have even gained more than that. I believe I gained somewhere in the ballpark around ten pounds, but I honestly I don't know how much I gained because I never weight myself. If my clothes don't fit or get too tight, then it's time to fix it.
For the most part, I'm pretty good about eating right and working out, but I need to make sure I'm not taking in too many calories. In other words, I need to make sure I'm not out eating the calories I burned running 10 miles. Therefore, I started logging everything I take in and expend with MyFitnessPal. This is a really big deal for me, because I absolutely hate journaling my food. But in order for change to happen, I have to change my behavior and it starts with how much food I eat, 'cause Lordy this girl can eat!
So, there it is. For the next seven weeks while I train for A1A marathon, I will be watching every little bit of food I put into my mouth. I've cut back on the alcoholic consumption too.
Last week was my first week logging everything and I was surprised with how well I hit my nutritional needs. I eat an sufficient amount of protein and carbs. It's the sugars I need to watch. Yesterday, MyFitnessPal (MFP) scolded me for overdoing it with the sugars from fruits, which is a nice change from the sugars I normally ingest from alcoholic beverages. Funny enough, MFP also scolded me from not eating enough, but I just wasn't hungry.
MFP is beginning to nag me like an Italian mother. "Eat! What's the matter with you? How can you not be hungry? Mangia! Mangia!"
It's not just the intake of food or the amount of food I eat that needs to change. I also need to change HOW I workout. That's where the HRM comse into play. I want to make sure I'm hitting that fat burning range for my workouts. Last Monday, I wore my HRM to Body Pump to see if I hit my maximum target heart range.
Good news: I totally nailed.
Bad news: I forgot to hit start to record the workout. #FAIL
You will have to take my word that I hit 75%. I about died when I saw that. Mind you, I felt like I would die, but I was impressed that I hit it.
Then last Tuesday, I wore the HRM for a 4 mile run. I intended to begin speedwork again, but I struggled getting out of bed. I convinced myself to get up by not running sprints. While I didn't attempt sprints, it would appear I didn't attempt to run either. I think Tuesday's run totally exemplified an "easy" run since I certainly took it easy. I didn't even hit a target heart rate of 50%! That is not good!  No more slacking off, missy!
4 miles
Time 43:05
Avg Pace 10:45
Max Pace 8:32 /strong>
As for the marathon training, this time around I'm following Hal Higdon's Senior Marathon Plan. This plan is intended for a runner who has run his/her share of marathons and feels comfortable with the big mileage, but doesn't want to overtrain. As much as I loved following the Asics-Kastor plan for previous marathons (such as A1A and Chicago), I was feeling really burned out by all the running.
This time around, I wanted to scale back the running, focus on more speedwork, strength training and core workouts to make me stronger and faster. Below, is my hybrid Hal Higdon Senior Marathon Plan. This could very well be my last marathon for a while and I want to do it right on many levels.

On Wednesday, I stuck to the rest/core workout part of the plan and I did 50 minutes of  core work in my living room including, pushups, situps, thighs and planks as well as bicep curls/triceps curls and dips.
Last week, I struggled with waking up early to run. By the time Thursday came, I had 8 miles on schedule, but I negotiaited with myself and only ran 6. I thought I ran a tempo run, but my HRM and pace state otherwise.
6 miles
Time 1:03:07
Avg Pace 10:25
Friday was another Body Pump day and although I didn't hit the same MHR as Monday, I still did all right. However, the calories struck me as odd.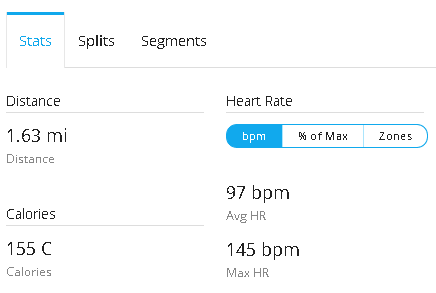 Waking up late and running short on time were a bad combination for Saturday's long run. Instead of the 14 miles listed on the plan, I only ran 13 miles on Saturday. The family and I had plans to attend a special screening movie premiere and I needed time to shower before the screening. While that excuse may sound lame, the movie was totally worth cutting my long run a mile short.
13.11 miles
Time 2:26:22
Ave Pace 11:10
Max Pace 9:03
So what movie made me shave a mile off my run?
PADDINGTON!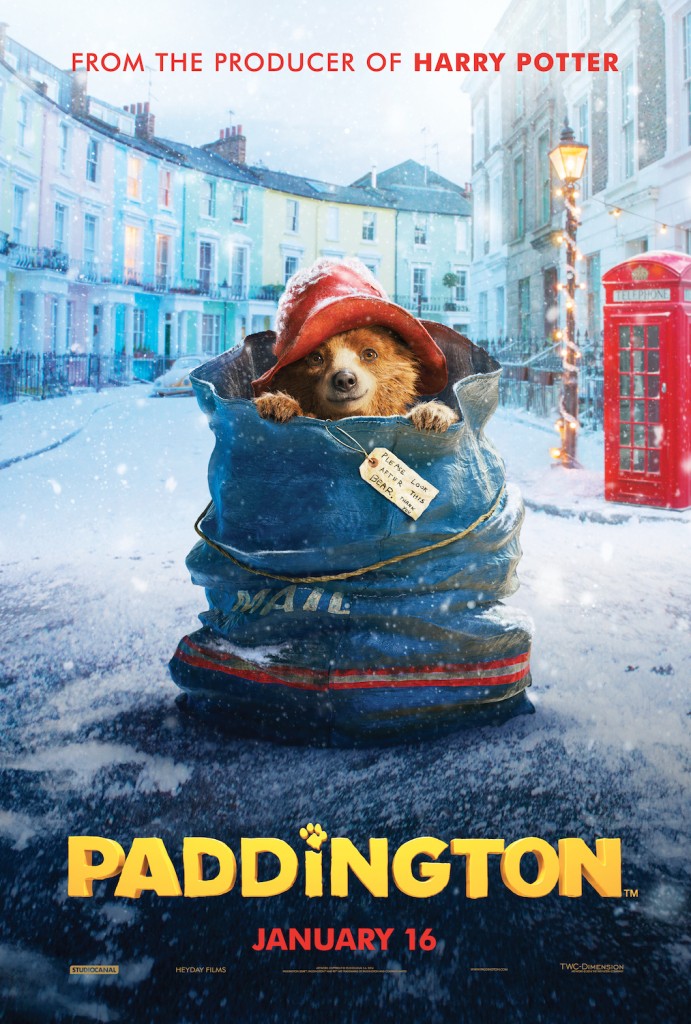 Did you read or watch Paddington cartoons as a young child?
The newest movie by HeyDay Films brings to life the lovable bear from our childhood without losing its sweeter than marmalade charm. PADDINGTON is a heart-warming story full of big, silly whimsical adventures that only a marmalade- loving bear can stumble into. Our whole family rolled with laughter, especially my four year old. Many of the stunts had Little Lion Man hollering out, "OH MY GOD!", which tickled my husband and me.
My husband and I especially loved the back story behind his famous red hat and how a Peruvian bear found his way to Paddington station in the heart of London. We also loved how the film stayed true the spirit of Paddington and all the cultural references. As an added bonus, the Muggles and ‪Whovians in my family recognized a few familiar faces in the film such as Peter Calpadi as the nosey neighbor. Paddington is a must-see cuddly, adorable fun film for kids (and big kids) of all ages!
PADDINGTON opens nationwide January 16th!
(Honestly, the trailer does this movie no justice. It's far better than illustrated here.)
Sunday, I enjoyed a pajama, Pinning & Planning kind of rest day. I did, however, throw on some clothes to make it to Fit2Run for packet pick-up for next Sunday's Clearwater Distance Classic Half Marathon!
Monday, I returned to Body Pump and I was once again impressed again with my MHR. But again, the calories were off.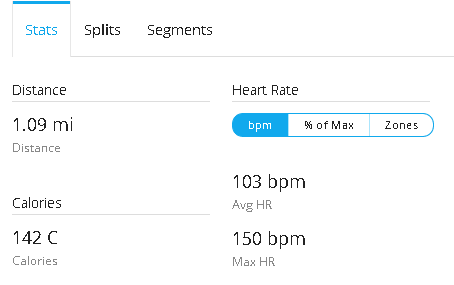 Today, I set my sights on speedwork. It's been AGES since I've done any sort of sprinting so I started with a basic one mile warm-up, 4 x800s and one mile cool down. Although I felt sluggish and like I was moving backwards, it felt good to be back on track (Tuesday). I know next week I'll be ready for 6 x 800s!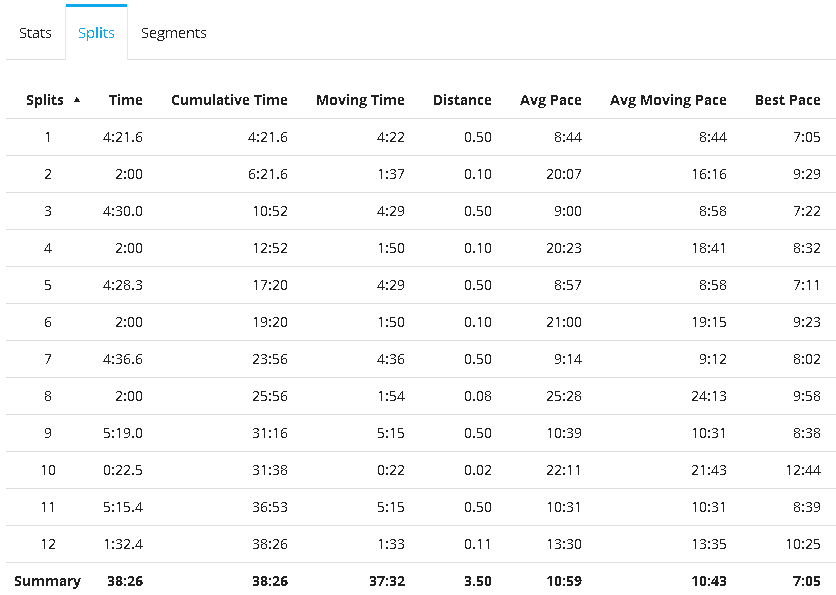 As I sprinted along, I was like a kid on Crhistmas Day anxiously wondering what goodies I would find recording on my Garmin.  After all, I knew I was pushing it and surely I would hit my MHR. About midway into my second lap, I snuck a peek at my watch.
74
What a minute…What the…? How can that be?! I'm not standing still here!
And then, when I downloaded my stats to my Garmin Connect, I see 11 calories for my first mile. WHAT THE…?!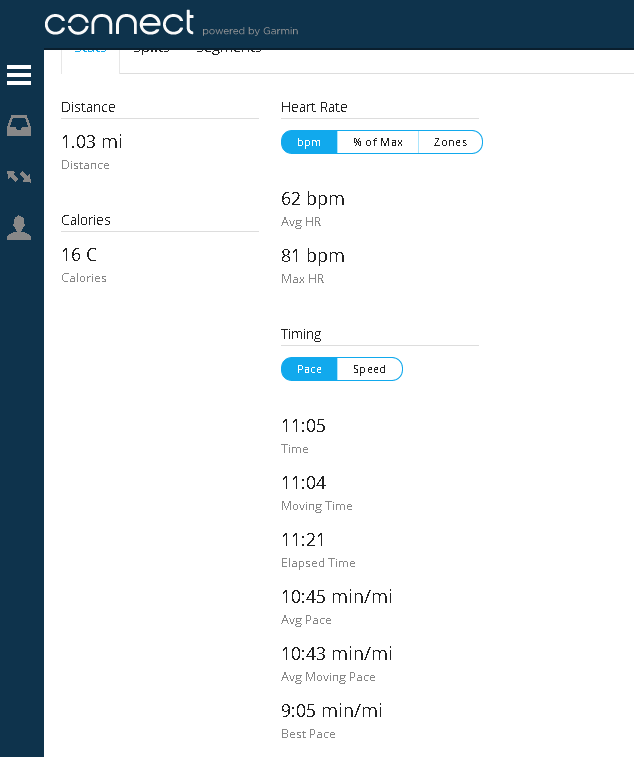 So clearly, there is something wrong with my HRM or clearly it's user error. I did a little digging around and found that DC Rainmaker outlines it all beautifully here.
So either I need to sit down and reread the manual or order a newer HRM.
Have you ever successfully trained with a HRM? What's your target heart rate?