Disclaimer: My family and I were given Sweet Tomatoes meal vouchers in exchange for this review. The opinions shared are deliciously my own.
Since beginning my Fat Loss Foodies Cooking School journey back in October, one of the biggest lessons I learned was letting go of food guilt and the fear eating out. Fat Loss Foodies taught me how to navigate through restaurant menus and build a meal that fueled my body properly. As long as I could find some protein, some good carbs, good fats and a whole ton of fibrous, water-filled greens on a given menu, I could manage dining out and feel satisfied.
Of course, filling my plate with lots of healthy greens comes easy when dining at Sweet Tomatoes, one of my family's favorite restaurants.
Since many of you may have made a resolution to eat more healthy this year, Sweet Tomatoes wants to help you reach your "Happy New You" goals by offering more protein-packed and superfoods options in addition to their usual assortment of greens and made from scratch soups.
For the month of January, Sweet Tomatoes offer menu items centered around functional foods that provide health benefits beyond basic nutrition. With new tossed and prepared salads such as the Power Fit Chicken Salad, Fat Loss Foodies fans like me can enjoy protein-and vegetable-packed dishes.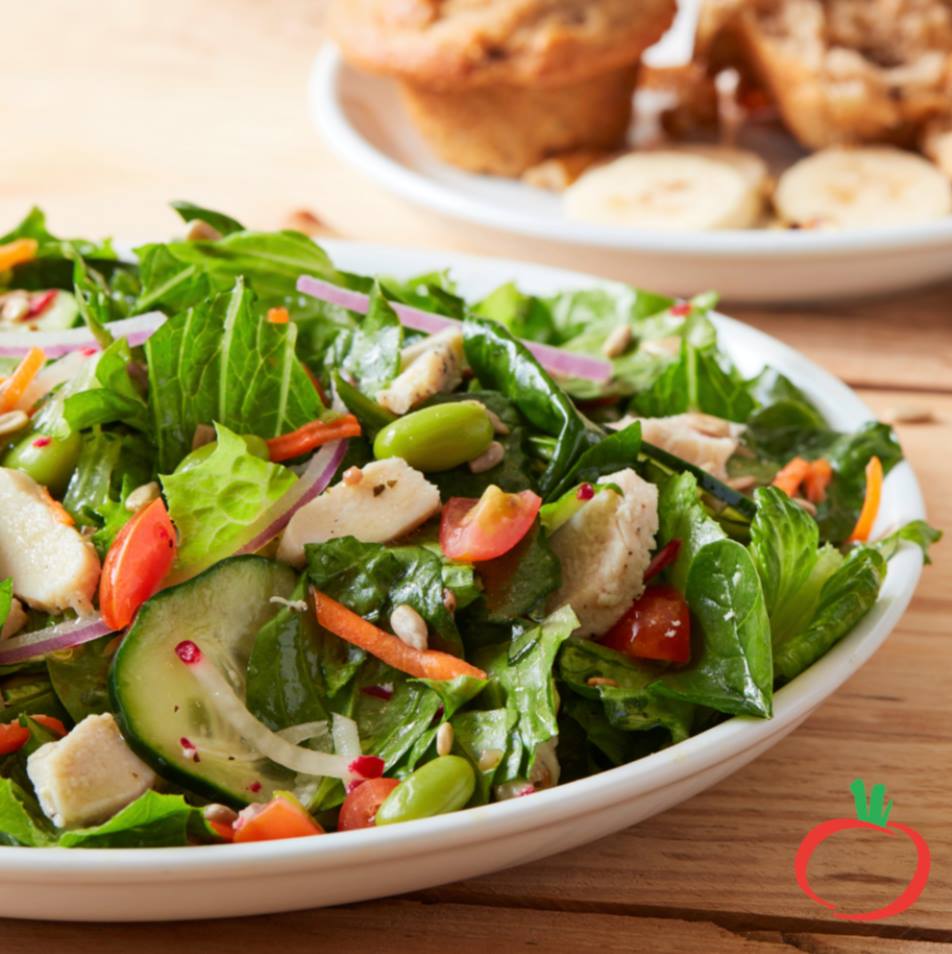 In fact, Sweet Tomatoes' Power Fit Chicken fits my Fat Loss Foodies meal template perfectly by offering the right combination of protein, fibrous greens, non-starchy watery veggies, healthy fats (sunflower seeds and avocado oil) and low starch carbs (carrots and edamame)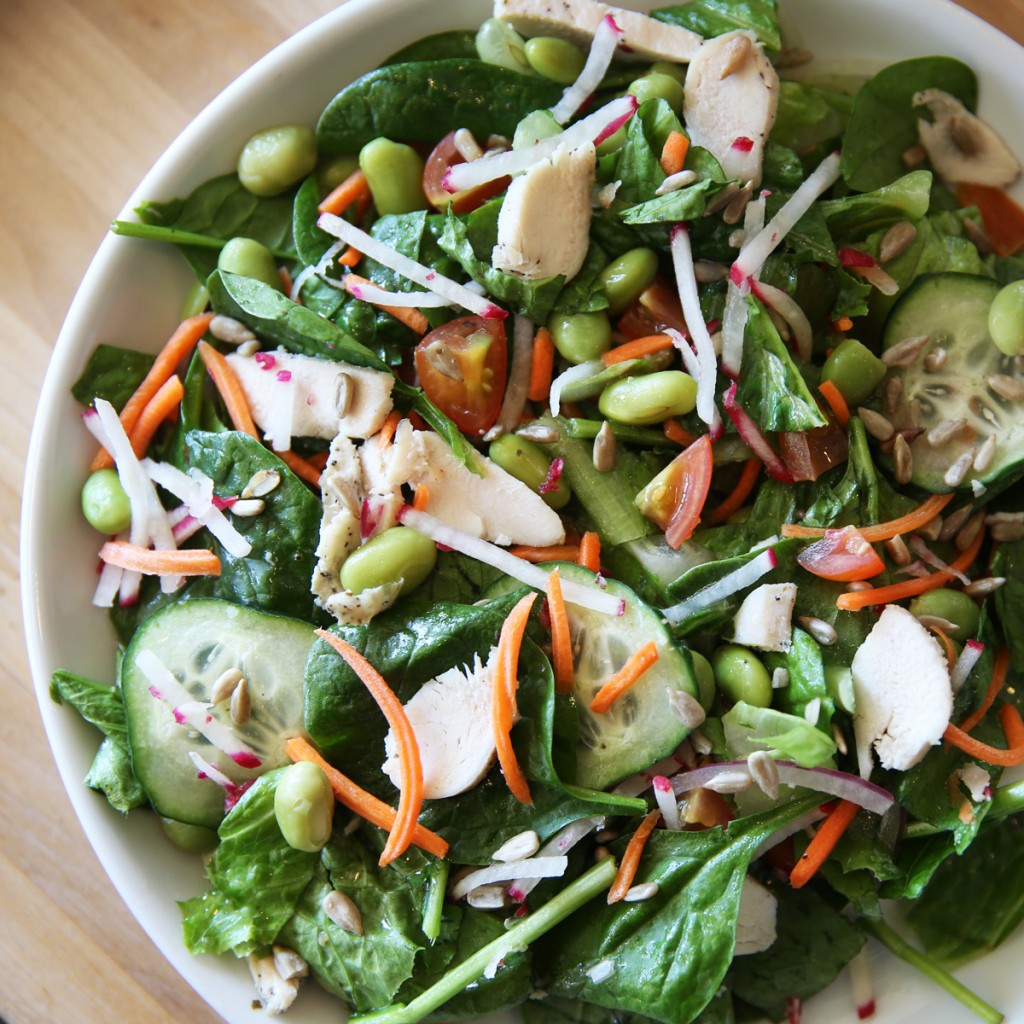 Power Fit Vinaigrette
Prep time:
Cook time:
Total time:
Sweet and Savory Vinaigrette to apri with Sweet Tomatoes Power Fit Chicken Salad.
Ingredients
Apple Cider Vinegar, ¼ cup
Juice of one lime (about 3 ounces)
Juice of one orange (about 4 ounces)
1 shallot, chopped
Kosher Sea Salt, 1 tsp
Black Pepper, ½ tsp
Avocado Oil, ½ cup
Instructions
To make dressing, combine apple cider vinegar, lime juice, orange juice, shallots, salt and pepper in a blender.
Blend for 30 seconds or until smooth and evenly incorporated.
Slowly add in avocado oil and continue to bermix until oil is fully emulsified.
Power Fit Chicken Salad
Prep time:
Cook time:
Total time:
Super simple Sweet Tomatoes Power Fit Chicken Salad that is packed with protein and greens.
Ingredients
1 bag of baby spinach, 5 oz.
Head of romaine lettuce, roughly chopped - 4 cups
1 Pre-cooked grilled chicken breast (grilled chicken tenders or rotisserie chicken)
1 vine ripe tomato, diced - ½ cup
Carrots, shredded, ⅛ cup
Unshelled edamame – 2 Tbsp
½ Red onion, sliced
Radishes, shredded - ⅛ cup
Sunflower Seeds, 1 Tbsp
Instructions
Combine spinach, romaine, vegetables, chicken into a large stainless-steel
bowl; toss thoroughly to combine.
Drizzle dressing over bowl and toss through salad.
Serve in individual bowls.
In addition to the Power Fit Chicken Salad, Sweet Tomatoes fans can continue to find their forever favorites, including Caesar Asiago, Joan's Broccoli Madness with Bacon and Tuna Tarragon salads, Deep Kettle Chili and Big Chunk Chicken Noodle Soup, Baked Potatoes, Quattro Formaggio Focaccia, Wild Blueberry and Buttermilk Cornbread muffins, Soft Serve Ice Cream and more.
As part of their mission to every day farm-fresh goodness, Souplantation and Sweet Tomatoes use fresh fruits and vegetables to create homemade recipes from scratch, providing guests with the freedom to personalize their own dishes. For more information and to find a restaurant near you, visit www.souplantation.com or www.sweettomatoes.com.
Enter to win dinner for FOUR at Sweet Tomatoes!
 To enter, tell me your Sweet Tomatoes favorites. Follow the Rafflecopter prompts for additional entries.