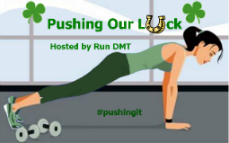 If you're just hearing about March's Pushing Our Luck Challenge for the first time, it's not too late to join in the fun.  Basically, we're following the One Hundred Pushups Program and tweeting about our achievements: #pushingit.  Then, each Thursday, I'll host a linky party for you to link up and share your recap post or add your Twitter handle.
Before I could begin Week Five (my week three), I had to perform an exhaustion test.  Just like it sounds, I had to do as many push-ups as my little girlie arms could do. And yes, I am still doing alternate push-ups. Don't judge.
[youtube=http://www.youtube.com/v/_K9OapQLXgw?version=3&hl=en_US]
I finished 46 push-ups.  Anymore and I may have landed face first onto my yoga mat. As @jellisfl1 would tell you, I've been known to kiss a gym floor with my forehead and I rather not do it again.  I love fitness and all but my forehead doesn't need to feel the love.
Based on my good form pushups (46 total), I would begin Week 5/Level 3.  Truth be told, I wasn't happy about making Level 3.  I wanted an easier, less vigorous, fewer reps placement.  Oh well.  There ain't no rest for the wicked and I'm going to have some wicked arms in a week.  BOOYAH!
Due to a busy St. Patirck's Day, I didn't perform the exhaustion test until Sunday and then I had to rest for 2 days before I could begin Week 5.  On Tuesday, after finishing Week 5/Level 3/Day 1, I had such Jell-o arms.  Holy gelatin mold, Batman! But the next day, I had no pain, so I guess Level 3 was a good fit.
This morning, I finished Week 5/Day 2.  Even though I been through this program before, I don't remember the increased number of sets.  I was worried, but I like more sets with fewer reps.  I pushed out those bad boys and showed them who's boss honey badger.
Since I started the week a little late due to late start on my exhaustion test, I'll do Day 3 on Saturday. Pinkie swear.  Then, it will be time for another exhaustion test (and another vlog, of course).  After that, I should be able to start Week 6 on Monday and have two days done for next week's linky party.
So far, I'm excited about my progress!  On Saturday evening, my friend, Tara, complimented me on my back muscles and asked me what I was doing.  How freaking awesome is that?!  Of course, I told her all about the Pushing Our Luck Challenge and the Hundred Pushups program.  I think she's going to give it a try.  Why not?  It doesn't cost anything but a commitment to a better you.
What about you?  How are you doing?  Did you have to repeat a week or are you pushing forward?
Link up and share your pushup progress.  Also, remember to tweet #pushingit to share your reps and progress.