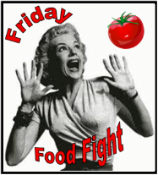 With summer here, there are sure to be many cook-outs and BBQs on the calendar and no cook-out is complete without some coleslaw.  Next to potato salad, coleslaw is my favorite side dish.  I love to pile it on.  Whether it's sandwiched between buns filled with shredded BBQ chicken or stuffed in a spicy fish taco, the sweetness of coleslaw is a necessary condiment for most savory cook-out dishes.
Homemade coleslaw tastes so much better than store bought and once you realize how easy it is to make, you will never buy it again.  Have you ever read the ingredients listed or even read the nutritional information on the carton of store bought coleslaw?  It would make you shudder.  Don't do it. Trust me on this. It's bad.
Now there's need to worry!  Run DMT has saved the day and your cook-out calories!
This coleslaw is totally guilt-free without substituting taste.  I've been experimenting with homemade coleslaw for some time now and I think I have perfected a low fat version now.  Based upon my calculations, this is roughly 16 grams in the whole bowl as opposed to its full fat store-bought counterpart which is 16 grams per serving.  Yikes!
Seriously, I love this stuff.  I could eat the whole bowl and that would be totally o.k.  Other than, no one else would get any and it's more fun to share good food.
Classic Low Fat Coleslaw
Ingredients
½ cup plain Greek-style nonfat yogurt
¼ cup canola-based mayonnaise
¼ cup rice vinegar
1 tbsp honey
½ tsp salt
¼ tsp ground black pepper
1 tsp celery seed
1 – 16 oz bag shredded coleslaw mix with carrots, red cabbage and green cabbage
Directions
In a large bowl, whisk together the yogurt, mayonnaise, vinegar, honey, salt, pepper and celery seed until well combined and creamy.  Add the coleslaw mix and toss with tongs until well coated.  Let chill in fridge for a couple hours before serving.
Thanks for joining our weekly Friday Food Fight! Can't wait to see what everyone is flinging this week!


*Also submitted at*