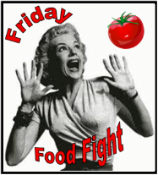 At last week's Friday Food Fight, I presented my readers with a challenge.  "Attempt a Skinnytaste recipe, review it and share it." 
Honestly, it's no challenge.  If you want to eat healthier, than you should already be cooking Skinnytaste's recipes.  It's a no brainer.
Skinnytaste's Spinach Lasagna Rolls were a no brainer for me.  I've mentioned before my undying love for rolled up food.  So when I stumbled upon Skinnytaste's rolled up lasagna, I was all over it like melted mozzarella cheese.
Although, you could certainly follow this recipe as is and it would probably be fine.  But you see, Italian food is my thing and I just couldn't follow it as is without tweaking it a bit.
And some tweaking I did!
I parboiled the lasagna noodles.  In other words, I boiled the noodles for only half the time as directed on the package so that my finished lasagna would be more al dente.
When I made the spinach ricotta filling, I used part skim ricotta instead of fat free.  (That's just a preference.)  I also added a couple of grated garlic gloves and an ¼ tsp of ground cayenne pepper to the mixture to give it a bit more kick.
My rolled noodles (all nine of them) fit snug together in a 8 x 8 inch baking pan. 
I ladled my own sauce over the top and sprinkled it with less mozzarella and about a tablespoon of parmesan cheese.
Once in the oven, I had to bake mine a little longer, about 45 minutes.
These lasagna rolls were simple and something the whole family enjoyed, but what I really enjoyed about this recipe was the individual portions, although …eh hem… I ate two helpings.  I have portion control issues.
Even with my rolled lasagna greediness, there were some leftovers and with that, I began my quest for portion control.  I placed each roll in its own freezer-safe zip lock bag and tossed them in the freezer for a meal on another day.
Maybe today is that day.  Roll those skinny bitches my way.
Spinach Lasagna Rolls
(Adapted from Skinnytaste)
Ingredients
9 lasagna noodles, parboiled
10 oz frozen chopped spinach, thawed and completely drained
15 oz part skim ricotta cheese
½ cup grated parmesan cheese and 1 Tbsp for topping
1 egg
1-2 grated garlic cloves
26 oz tomato sauce
¼ tsp ground cayenne pepper
½ tsp salt
¼ ground black pepper
9 Tbsp part skim mozzarella cheese, shredded
Directions
Preheat oven to 350.
In a large bowl, thoroughly combine spinach, ricotta, parmesan, egg, garlic, cayenne pepper, salt and pepper.  Then, ladle about 1 cup of sauce on the bottom of an 8×8 baking dish.
On a cutting board, lay out one lasagna noodle.  Take 1/3 cup of ricotta mixture and spread evenly over noodle.  Roll and place seam down into the baking dish.  Repeat with remaining noodles.
Ladle sauce over the noodles in the baking dish and top with mozzarella and parmesan.  Cover dish with foil and bake for 45 minutes or until cheese melts.
To serve, top each lasagna roll with extra tomato sauce.
Thanks for joining our weekly Friday Food Fight! Can't wait to see what everyone is flinging this week!
*Also submitted at*