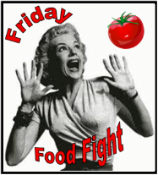 I have a guilty pleasure confession.  One of my favorite shows at the moment is Worst Cooks in America.  You see, I watch this show with a bit of arrogance because I used to be one of the America's worst cooks.  Iron Chef Allan would agree.
While watching each episode, I cringe while they chop.  I sneer as they slice.  "Someone is going to lose a finger!"
Over the years, I've learned to become better in the kitchen out of necessity so my family wouldn't starve to death.  During my culinary adventures in the kitchen, I've learned that cooking isn't difficult and making foods from scratch isn't scary.  Most importantly, I've learned how important it is to read a recipe in its entirety before cooking.
Apparently, the contestants on Worst Cooks in America haven't learned that yet.
Anne Burrell and Bobby Flay are the hosts of the show and we are big Bobby Flay Boy Meets Grill fans.  In one episode, the contestants were expected to butterfly a whole chicken by removing its backbone.  Not a complimented process, but you would never have known it watching the worst cooks.  Watching the episode prompted Iron Chef Allan to perform a spinectomy on a poor defenseless whole chicken.
Bobby Flay demonstrates the steps to butterflying a whole chicken in this video.
Iron Chef Allan followed Bobby Flay's instructions for butterflying and then grilled two whole chickens.  (You can even cut the backbone out by using a pair of kitchen sheers, an Anne Burrel method.) He made his own BBQ using the Joy of Cooking recipe.  When combining the ingredients, he used my own chili powder and also added natural ketchup (the kind without corn syrup) to the mixture.
When grilling the chicken, Iron Chef Allan grilled one side for 20 minutes and then basted it and smothered it with BBQ sauce after he flipped it.
The beauty of cooking a butterflied whole chicken this way is that the chicken grills more evenly.  Iron Chef Allan also tried this method with my Mojo Marinade and the results are truly delicious.  So, don't be scare to slice a spine out of a chicken.  Give it a go next time you grill!
As for the BBQ sauce, I realize I'm opening a can of worms between the whole north-south North Carolina BBQ sauce vs. Mephis debate.  I don't know anything about that. We were just craving a simple BBQ sauce and this one is works for us.
(I apologize in advance for the come-hither chicken food porn.)
BBQ Sauce
Cuisine:
American Barbecue
Prep time:
Cook time:
Total time:
Recipe borrowed from the Joy of Cooking. A sweet-savory BBQ with just the right heat.
Ingredients
1 ½ cups Heinz Simply Heinz Ketchup
1 cup apple cider vinegar
¼ cup Worcestershire sauce
¼ cup soy sauce
1 cup brown sugar
2 Tbsp dry mustard
¼ chili powder
1 tbsp ground ginger
2 garlic cloves, minced
2 TBSp vegetable oil
3 lemon slices
Instructions
Combine ingredients in a 1-quart saucepan. Simmer for five minutes, stirring often.
Remove the lemon slices, if desired. The sauce will keep covered and refrigerated for up to two weeks.
Thanks for joining our weekly Friday Food Fight! Can't wait to see what everyone is flinging this week!
*Also submitted at*