With a three day-long holiday weekend that kicks off the cookout summer season in Florida, it should be no surprise that May is National Burger Month.
However, this post isn't about a good burger recipe. Rather, this post spotlights a delicious side dish because every good burger and cookout needs classic American side dishes.
At some cookouts, I have been known to pass on the charred meats and devour the side dishes. I just love all the fresh greens, sweet and savory combinations and the assortment of ooey-gooeyness of the creamy mayo salads. But the health nut in me knows that often all those wonderfully delicious sides contain more calories and fat than the main charred meat dish I skipped. Oh the agony of delicious cookout accompaniments!
Fret no more, my health freaks and calorie counters! I have created a wonderful new no carb dish that will fool your brain and satisfy your carvings for delicious cookout sides and carbs.
I'm truly obsessed with substituting cauliflower for all sorts of comfort food side dishes such as mashed cauliflower or my newest creation No Potato Cauliflower Salad or also cleverly known as called Faux Potato Salad. The combinations of flavors mask the cauliflower taste and really do fool your brain into thinking it is eating good ol' fashioned low fat picnic-style potato salad.
For this No Potato Cauliflower Salad, I slightly tweaked my traditional low fat potato salad but not too much because I wanted keep all the flavors I love in a traditional potato salad. The most significant tweak starts with substituting five pounds of potatoes with one head of steamed cauliflower. Other than that, the ingredients are almost the same as traditional potato salad.
Whether you stick with potatoes or substitute your salad with cauliflower for your next cookout, be sure to let the salad chill in your fridge a few hours before serving to allow the flavors to combine nicely.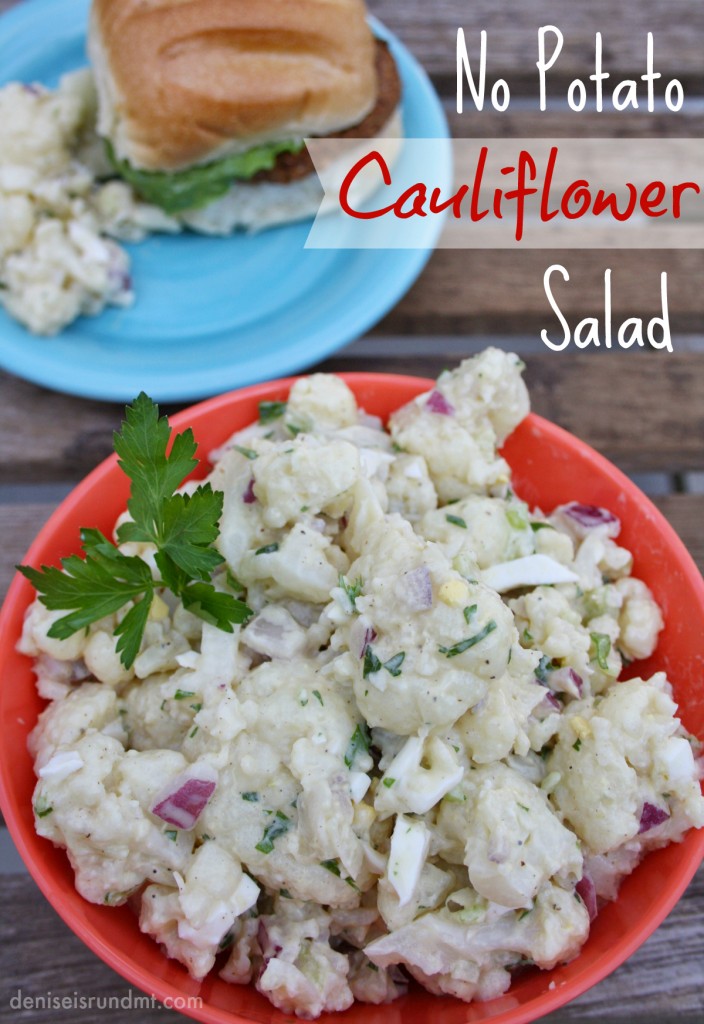 No Potato Cauliflower Salad
Cuisine:
Salad, Side Dish
Prep time:
Cook time:
Total time:
A great summer time no carb substitution for the traditional potato salad
Ingredients
1 head cauliflower
2 hard-boiled eggs, chopped
½ cup canola mayo
1 celery, chopped
½ cup red onion, chopped
2 tsp spicy brown mustard
1 Tbsp red wine vinegar
½ tsp smoked hickory sea salt
¼ tsp black pepper
1 Tbsp flat parsley, chopped
Instructions
Rinse and cut cauliflower into 1-2 inch florets. Steam in double boiler until fork tender, about 15 minutes. Remove from heat; lanch and drain.
In a large bowl, combine eggs, mayo, vinegar, mustard, red onion, celery, salt, pepper and parsley. Add cooled cauliflower and mix until well coated.
Cover and set in fridge for a at 2 hours before serving.
 Discover more healthy Run DMT Recipes here and follow Run DMT on Pinterest for even more healthy pinspiration.