This post shares breast cancer prevention tips and a Lightened-Up French Onion Soup recipe containing cancer-fighting properties. Although this is a sponsored post through a partnership with Shuman Farms for Breast Cancer Awareness Month, these are my own thoughts and recipe for Lightened-Up French Onion Soup.
[wprm-recipe-jump id="29843″]
This time of year, we see a lot of pink ribbons and reminders for breast cancer awareness and prevention, however, breast cancer prevention should happen year-round.
If you're a breast cancer survivor, watched a loved one fight the disease or lost a loved one to breast cancer, then you realize it's more than wearing pink. Prevention is key.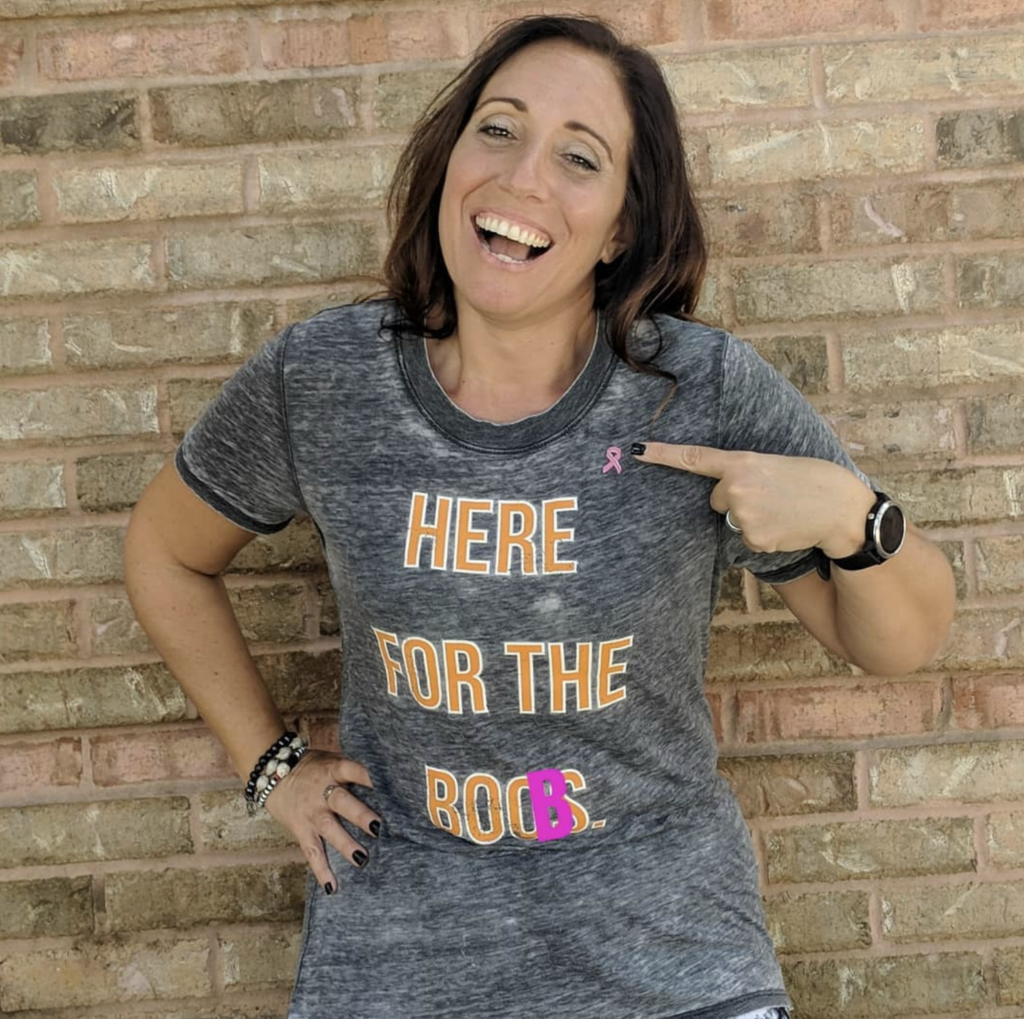 Did you know that 1 in 8 women will develop breast cancer? – BreastCancer.org
To put a face to these statistics of "1 in 8 women", one of the eight women in your immediate family (mother, sister, aunt, grandmother) is likely to develop breast cancer.
Did you know that a woman's risk of breast cancer nearly doubles if she has a first-degree relative (mother, sister, daughter) who has been diagnosed with breast cancer? – BreastCancer.org
That's why early detection and prevention measures are critical for women over 40.
Four Tips For Breast Cancer Prevention
Schedule regular mammograms.
Women over 40 should begin annual mammograms. If you have a history of breast cancer in your family, talk to you doctor about a baseline mammogram for women under 40.
Touch your ta-tas.
If you're under the age of 40, get in the habit of examining your own breasts. Self-exams are an effective method for early detection and will lead to additional screenings with your health care provider. Visit breastcancer.org to learn how to properly execute a self exam.
Get active.
Studies have shown time and time again that regular physical activity reduces breast cancer. By simply walking 30 minutes a day and reducing your time sitting, you can improve your overall health.
Eat a well-balanced diet.
In addition to moving, eating a nutrient-filled diet with fresh fruits, vegetables and lean meats can aid in prevention. Eating foods rich in antioxidants and dense nutrients incorporates cancer-fighting agents into your diet.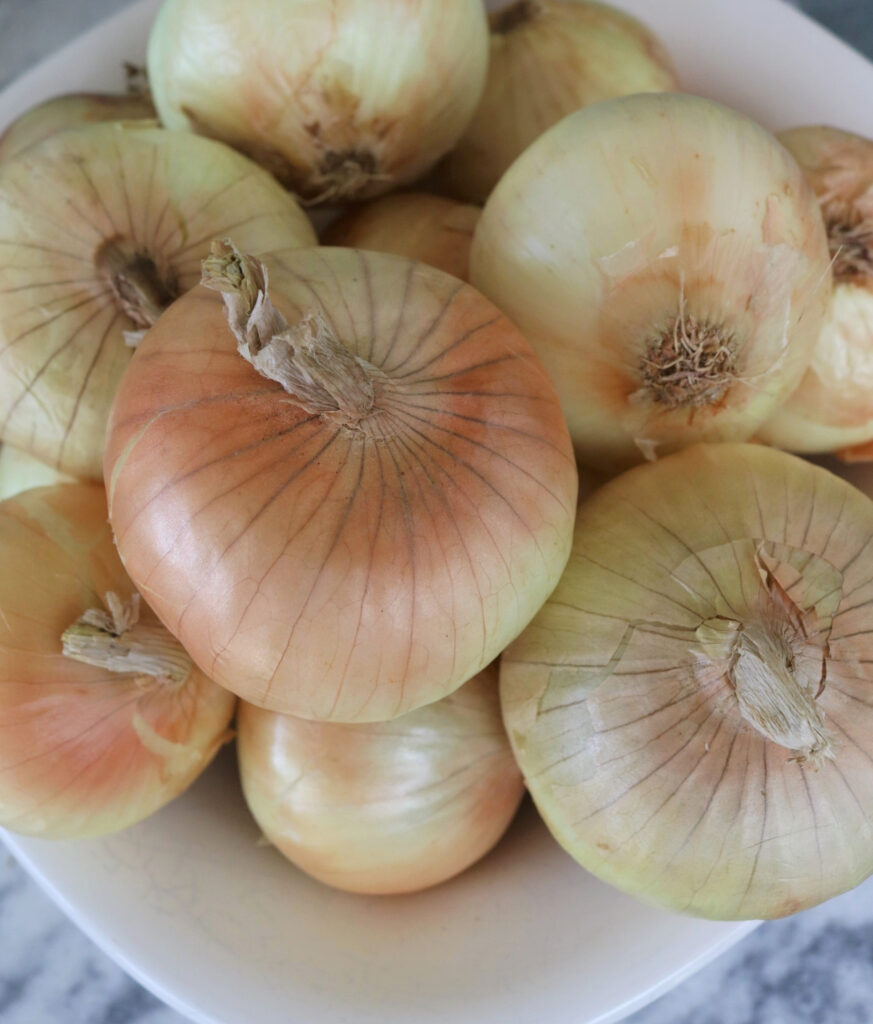 Did you know that onions offer cancer-fighting nutrients?
More than flavor enhancers and a base to your favorite recipes, onions are chockfull of Vitamin B, C and potassium and cancer-fighting antioxidants such as quercetin and allicin.
Knowing all the health benefits to onions, Shuman Farms, the growers of RealSweet Sweet Onions pledges to go pink this October in support of Breast Cancer Awareness month. Through their pink label campaign on their RealSweet Sweet Onions, Shuman Farms promotes prevention and continues to make an annual donation to support the cause. In fact, since 2009, Shuman Farms has donated more than $110,000 to organizations working hard to find a cure.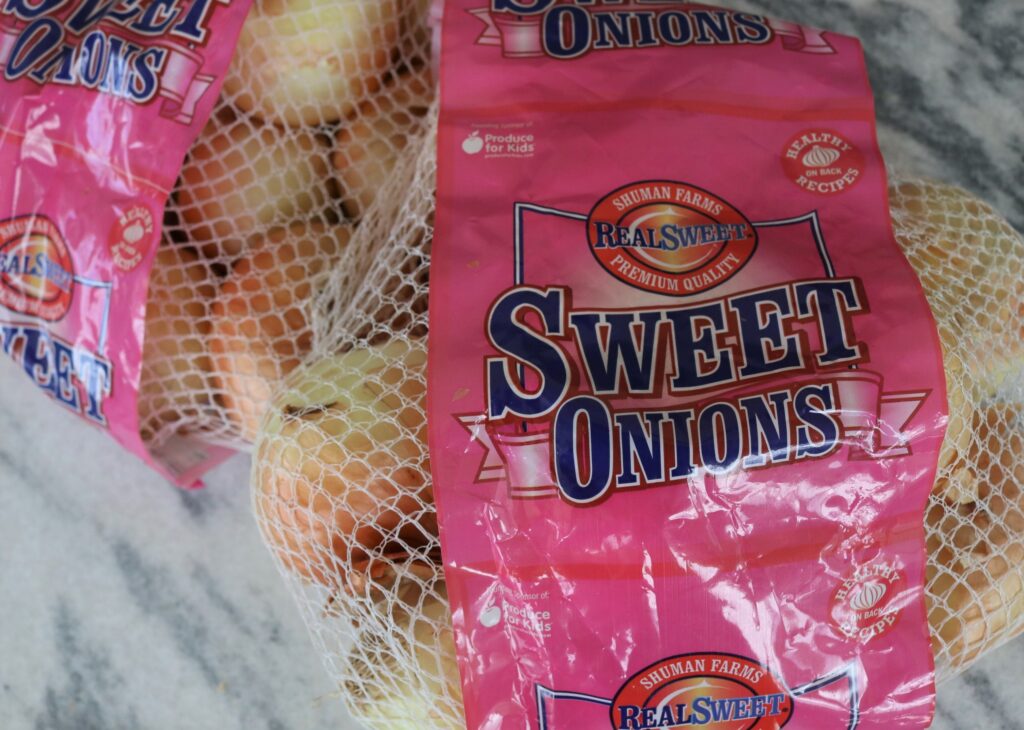 This October, look for Shuman Farms' RealSweet Onions in the pink bags in your local supermarket when creating my Lightened-Up French Onion Soup just in time for cooler weather. The sweetness of the RealSweet Sweet Onions (also known as Vidalia) delivers a sweeter tang to this traditional savory soup.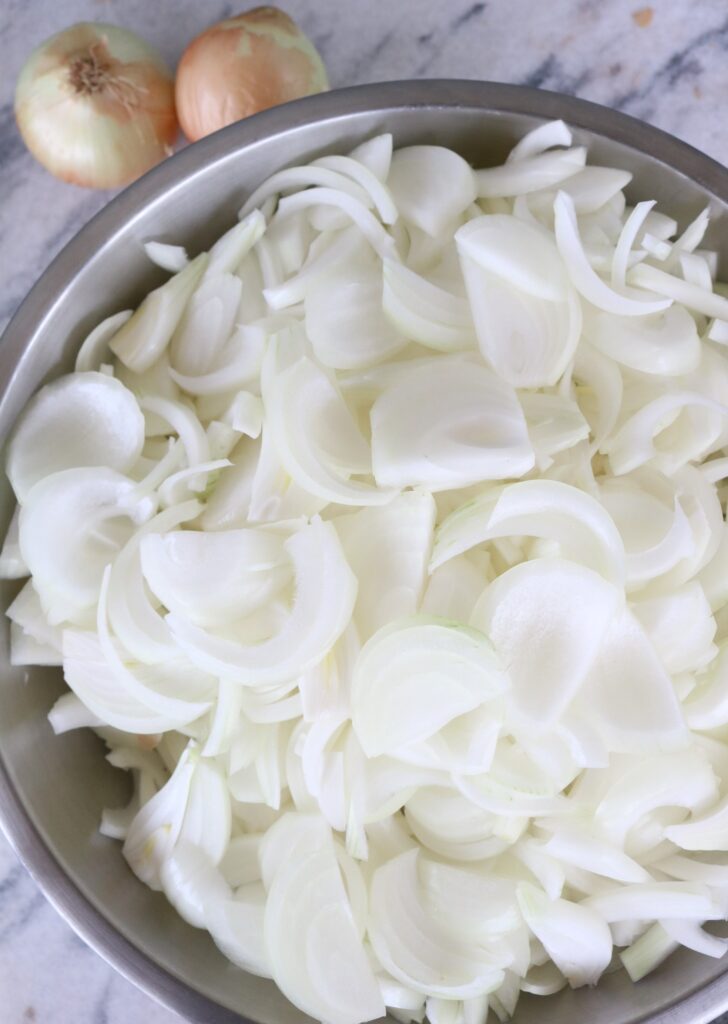 Plus, by adding only a few sprinkles of grated Gruyere cheese rather than the blanket of baked cheese traditionally served on top serves a lighter version of this classic favorite soup without skimpy on the flavor we love.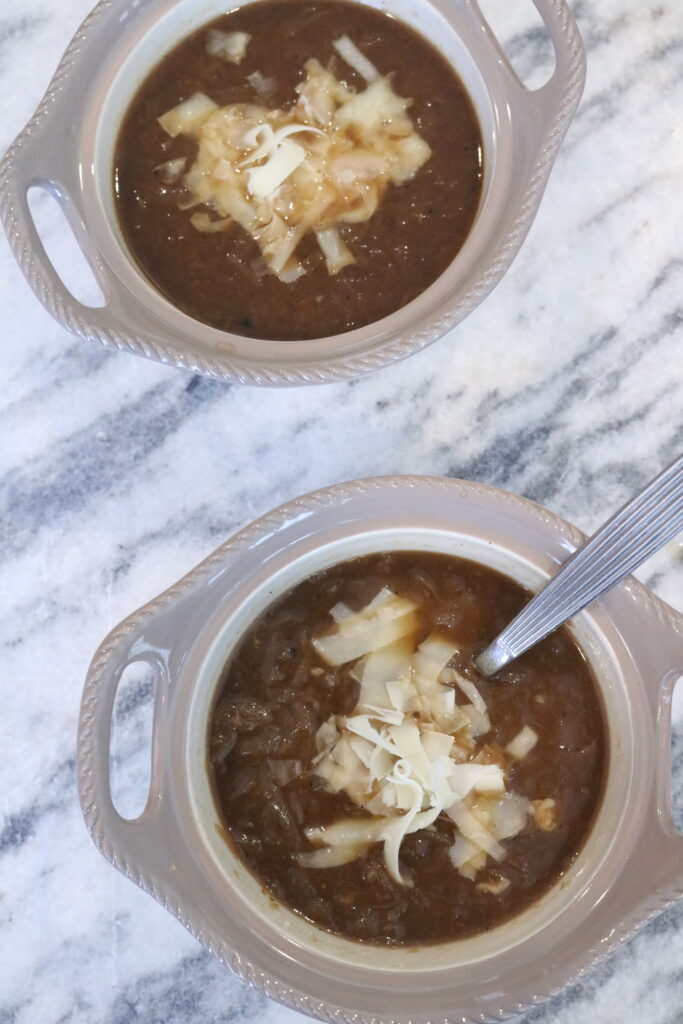 Lightened-Up French Onion Soup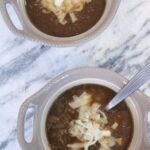 A lighter, healthier version of French Onion soup made with Vidalia onions that deliver a sweeter, tangy flavor.
3 tbsp unsalted butter
2 3 lb bags RealSweet Sweet Onions, sliced Asian-style (lengthwise)
2 cups water (Plus 1 ½ cups for deglazing (1/4 cup increments))
4 cups low sodium chicken bone broth (32oz carton)
2 cups beef broth
½ cup dry red wine
8 sprigs fresh thyme
3 bay leaves
½ tsp ground black pepper
salt to taste
¼ cup grated Gruyere cheese ((To be split over six bowls))
Heat oven to 400 degrees.

Place sliced onions and butter in a large Dutch pot. Cover and cook for two hours.

Remove pot from oven and place on stovetop on a medium-high heat uncovered. Stir continuously and cook until liquid is mostly evaporated and a dark frond forms, dark not burned.

Add ¼ cup of water; stir and cook until liquid evaporates and a dark frond appears again. Repeat this step six times.

Stir in red wine and deglaze pot for one minute.

Add 2 cups water, beef bone broth and chicken bone broth. Addblack pepper, thyme and bay leaf. Salt to taste.

Bring to a gentle boil. Cover and simmer on a low heat for one hour.

Ladle soup into bowls. Garnish with Gryuere cheese and serve.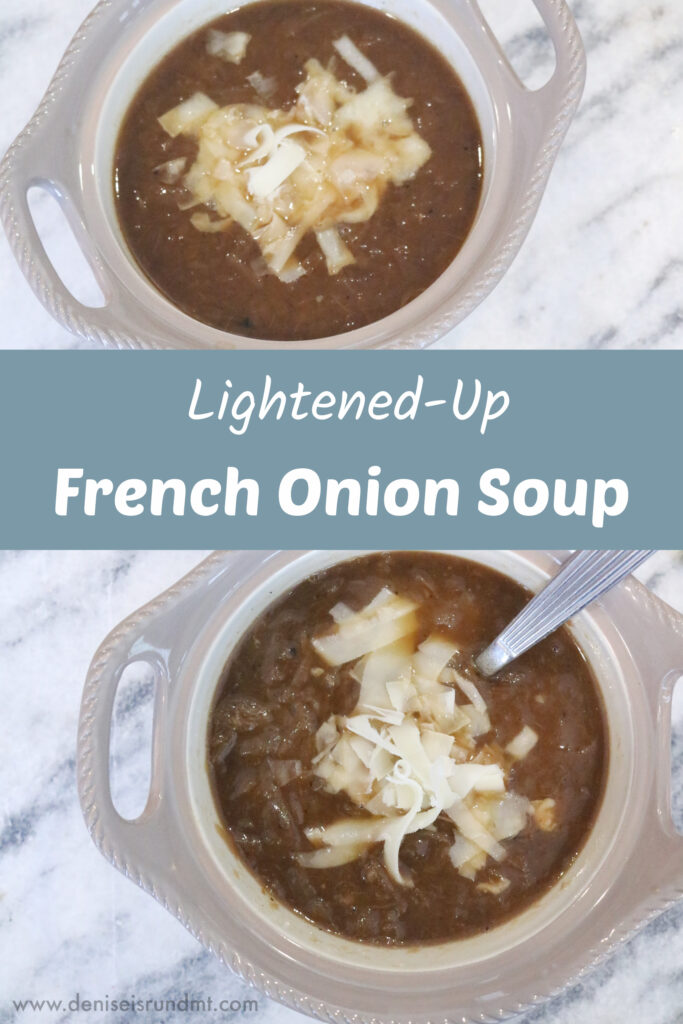 For more breast cancer awareness and cancer-fighting recipes, follow Shuman Farms RealSweet Onions on Facebook, Instagram, Twitter and Pinterest.