The holidays are over. The decorations are down and winter break is finished. It's time to get back into the groove of the daily grind of busy school days and work days.
For me, I'm back into the groove of marathon training, which means fueling properly with the right amount of protein and staying hydrated. With completing three marathons in seven weeks, I noticed that I had a hard time keeping my appetite and portion sizes under control. I was constantly ravenously hungry, especially the week after the marathon. Due to my insatiable appetite, I gained ten pounds and trust me; it was not muscle or water retention nor the holidays.
While I'm not trying to lose weight during marathon training, I don't want to gain any more extra pounds. Therefore, for the next eight week as I train for A1A Marathon, I plan to survive my training without gaining weight by following these six tips for optimal marathon training:
6 Tips for Optimal Marathon Training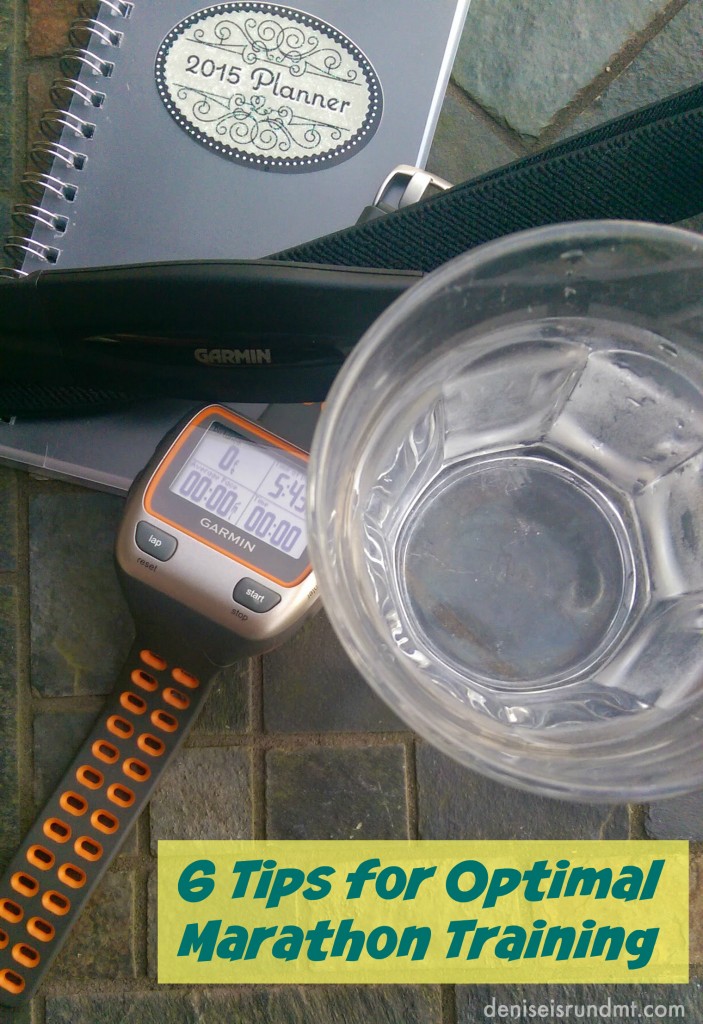 Drink a minimum of 64 ounces of water.
Water helps replenish and repair muscles. It also helps curb your appetite.  As outlined by Runner's World, take your Body Weight t x .31.
I'm pretty good about drinking water and drink about 43 ounces of water. It's the caffeinated beverages and beer that undo my water consumption. For every cup of coffee I drink or glass of wine/beer I drink, I need to replace it with another glass of water.
Eat at least 100 grams of protein.
For endurance runners like me, you calculate your necessary protein intake by multiplying your weight in pounds by 0.6 to determine the number of grams of protein you should consume per day. For me (140 pound female) running somewhere in the range of an hour during the week to three hours during my long runs, I should be eating 84 to 100 grams of protein per day as suggested by Runner's World.
Journal Meals
The old adage is true: "You can't out exercise a poor diet." While I typically eat well balanced meals, I need to make sure I'm truly eating the right foods and not fueling myself with empty calories and bad foods. I also need to control my portion sizes. The only way to keep track of what I eat is to log it all.
Journal meals will be extremely difficult for me because I absolutely despise recording my every intake of food and drink. Truth be told, I'm so lazy when it comes to keeping a food journal. I was terrible at it during my Weight Watcher days. I refused to log my points but kept running total in my head. I even failed miserably at it last summer during my Body Back Program.  I even hate the apps, however, since I really do love and still use Map My Run, I'm going to try recordings my meals, snacks and water intake via that app. Hopefully, by committing to a food journal, it will make me more accountable and make sure I'm eating the right amount of protein and carbs and drinking enough water.
Scale Back on the Alcohol
This might seem like a no brainer. Beer and wine are just empty, unnecessary calories. If I drink one less glass of wine or beer and I've already reduced my caloric intake by 200 calories.
Wear a Heart Rate Monitor
Much like making the adjustment to wearing a fuel belt, I have been avoiding wearing a heart rate monitor. Honestly, I don't know why I haven't worn one before now, other than I thought it would rub and irritate me. But since I can't seem to break my plateau of pudgy weight and speed (I'm not getting any faster or thinner), I think it's time to break down and see what's going on with my ticker while I run. I need to see if I am training effectively. Maybe I'm not pushing myself enough? Maybe I pushing myself too hard and that's why I'm ravenously hungry? We shall soon find out!
For proper heart rate monitor training and technique, read Runner's World "How to Train with a Heart Rate Monitor".
Sleep
Sleep and rest is crucial for muscle repair, however, as a maniac marathen mom on the run of three children, this is easier said than done. Sometimes I simply cannot turn off my brain! In order to make my nights more restful, I should save solving the world's problem for my long runs instead of when I'm trying to sleep.
What tips can you add to list?
---
So that's my plan for health and well-being during my marathon training. As for this week's meals, here's our dinner menu for the week.
Sunday – Salsa Verde Pepper Jack Turkey Burgers and Asian-Style Broccoli Slaw
Meatless Monday – Roasted Grape Tomatoes and Garlic Zoodles (Zucchini Noodles)
Tuesday – Skinnytaste's Mongolian Beef and Broccoli with Brown Rice (The Skinnytaste Cookbook)
Wednesday – Skinnytaste's Orecchiette with Chicken Sausage, Baby Kale and Bell Pepper  (The Skinnytaste Cookbook)
Thursday – Ground Turkey Chili with Brown Rice
Friday – Chinese Take-Out (Iron Chef Allan is craving Chinese food.)
What's on your dinner menu this week? What recipes are you pinning and planning?