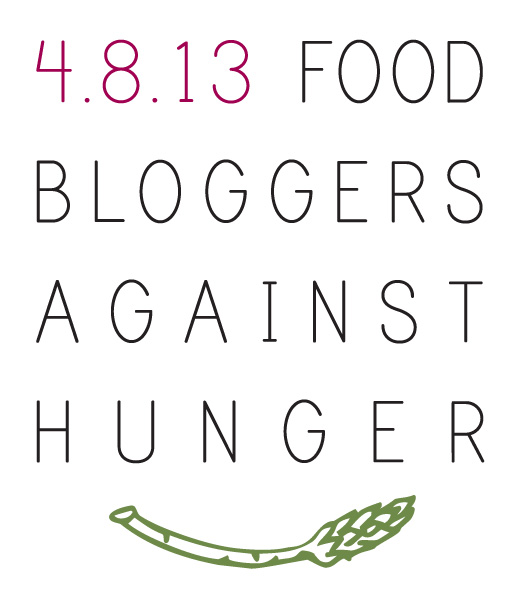 Today, I join over 200 food bloggers to bring attention to the 50 million Americans who go hungry every day.  This call to action was prompted by by The Giving Table and the documentary A Place at the Table, playing in theaters now and also available for download from iTunes and Amazon.
One in six Americans face food insecurity and "it is the highest recorded percentage of food insecure people since the USDA began tracking in 1995". – Mazon
Presently, SNAP provides approximately $134 per person (about $1.50 per meal per day), however, with government cut-backs and rising cost of produce, families are finding it harder and harder to feed their families.
What can you do?
Take 30 seconds and send a letter to congress asking them to support anti-hunger legislation.
Clean out your pantry and donate healthy canned good items to your local food bank.
Arrange a food drive in your neighborhood.
Spread the message and encourage others to help feed America's hungry.  Tweet "Hunger in America is a political condition. Tell your reps to make ending hunger a priority NOW. http://bit.ly/Yrn6MA #takeyourplace."
As part of my Food Blogger Against Hunger call to action, I went on a shopping trip to see what meals I could feed my family if we lived on government subsidies.  In my investigation, I learned that some healthy items are WIC, such as dried beans, tomatoes and brown rice.  I also realized the importance of really shopping around for the best deals on food, couponing and price matching.  Given that, here are some meals that could be prepared for under $4.
Mojo Marinade – Use frozen chicken breast shared in vlog.  Thaw chicken and pound out to ½-inch thickness before marinating.
Linguini with Roasted Tomatoes and Arugula
Roasted Vegetables (seasonal)
Penne and Asparagus (seasonal)