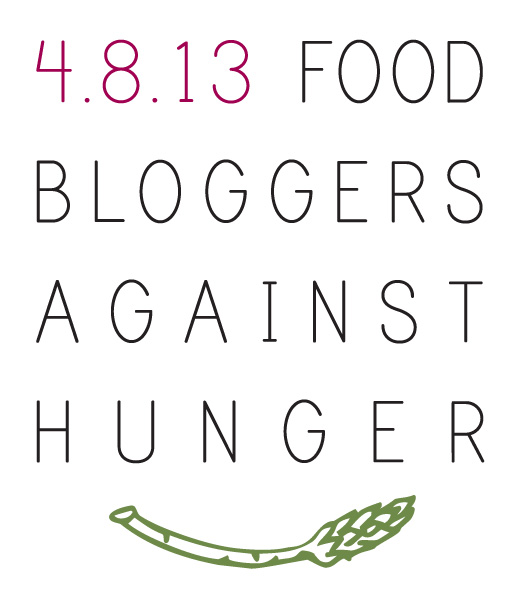 On Monday, I will join over 200 food bloggers to bring attention to the 50 million Americans who go hungry every day.  This call to action was prompted by by The Giving Table and the documentary A Place at the Table, playing in theaters now and also available for download from iTunes and Amazon.
One in six Americans face food insecurity and "it is the highest recorded percentage of food insecure people since the USDA began tracking in 1995". – Mazon
As part of my Food Blogger Against Hunger call to action, I went on a shopping trip to see what meals I could feed my family if we lived on government subsidies.  In my investigation, I learned that some healthy items are WIC, such as dried beans, tomatoes and brown rice.  I also realized the importance of really shopping around for the best deals on food, couponing and price matching.  Given that, here are some meals that could be prepared for under $4.
Mojo Marinade – Use frozen chicken breast shared in vlog.  Thaw chicken and pound out to ½inch thickness before marinating.
Linguini with Roasted Tomatoes and Arugula
In addition to this call to action, I'm sharing a new recipe for under $4 for this week's Friday Food Fight.  In my investigative shopping adventure, I spotted deals to make this healthy meal affordable.  This penne and asparagus recipe consists of five main ingredients, including garlic not pictured.
Regular Barilla pasta was a Buy One, Get One Free deal at Publix this week.  Therefore, you could get two boxes of regular semolina pasta for $1.27 instead of box whole wheat for $1.19, if you wanted to stretch your dollar.
The eggs are a WIC item but if not purchased on WIC, you could buy the half dozen for $1.
Those ingredient would produce a similar healthy Penne and Asparagus dish for about $4.
Food Bloggers Against Hunger and Friday Food Fight
Recipe type:
Italian, Vegetarian
Prep time:
Cook time:
Total time:
Adapted from Skinnytaste, penne and asparagus smothered in a creamy cheesy pasta sauce.
Ingredients
1 lb thin asparagus
1 lb Barilla Whole Grain Penne
1 Tbsp olive oil
3 garlic cloves, minced
Salt and fresh ground pepper
1 large egg yolk
1 cup pasta water
¼ cup grated parmesan cheese
¼ tsp crushed red pepper flakes
Instructions
Rinse asparagus. Trim ends of asparagus and then cut into 2" pieces. Bring 4 cups salted water to boil. Add asparagus and cook 3 minutes, until tender crisp. Drain asparagus.
Cook penne as directed on box for al dente only a minute less. Reserve one cup of pasta water.
As pasta boils, heat olive oil in a large skillet. Add garlic and cook until golden. Add asparagus, salt and pepper and sauté about 1-2 minutes, tossing with oil and garlic.
In a small bowl, combine egg yolk, parmesan cheese, 1 cup reserved pasta water, salt and pepper. Whisk well.
Drain penne and return to pot. Lower heat to a low heat and pour egg-cheese egg mixture over penne. Stir continuously to thicken sauce, about 2 minutes.
Add asparagus and toss through penne. Add crushed red pepper flakes and salt and pepper to taste.
Serve with additional grated parmesan.
Thank you for joining our Food Bloggers Against Hunger campaign and for linking up for this week's Friday Food Fight.
*Also submitted at*