Did you get your fill of Thanksgiving dinner?
Personally, I thoroughly enjoyed eating Thanksgiving leftovers for breakfast. Since I'm running the Space Coast Marathon I didn't over do with the food, but I did enjoying carb loading with an extra helping or two of mashed potatoes and stuffing. After days of indulging myself, now it's time to get back on track and slim down on the sweets, carbs and calories again.
I really do need to scale back my portions now that the holidays are here. As the sweets start sneaking their way into my pantry and onto my plates, this festive time of year is also such a dangerous one for weight gain if I'm not careful and aware of what I'm eating. With all the holiday parties, it's far too easy to take in too many bad calories or drink too much. Therefore with the holiday party season fast approaching, I wanted to share my six simple tips to avoid overeating this season.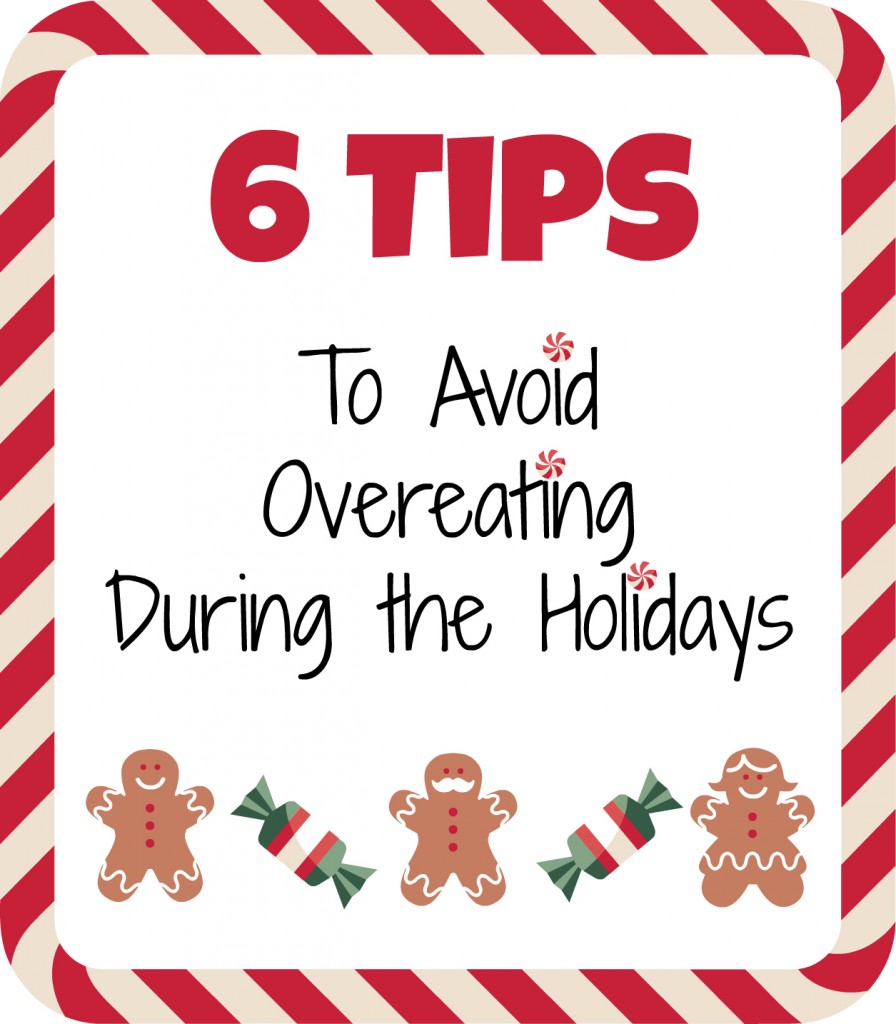 6 Tips to Avoid Overeating During the Holidays
Keep sweets out of the house.
While there are many health benefits to eating a small amount of dark chocolate, eating a whole bag of dark chocolate does not have the same properties. During the holidays, it's best to not stockpile bags of chocolates or sweets in your pantry. If you bake a lot during the holidays, get the baked goodies out of the house immediately by giving them as gifts to friends, co-workers, neighbors, teachers or local hometown heroes such as firefighters and police officers.
Eat before you arrive.
Never arrive to a party on an empty stomach. It's best to eat a healthy, satisfying meal before attending a party. If you aren't hungry when you arrive, you won't snack or overeat.
Bring a healthy dish to a potluck party.
Share a dish that you won't feel guilty about eating. Prepare a low-calorie appetizer or dessert and stick to your own dish. If you having specific dietary needs (food sensitivities, food allergies, gluten-free, vegetarian, etc.), you avoid uncomfortable food situations when you bring a dish you know is "safe" to eat.
Remember portion control.
Select a small 6" plate; then limit yourself to one tablespoon of each dish and don't go back for second (or third) helpings. By doing this, you can enjoy a reasonable amount of food without overdoing it.
Drink low calorie cocktails.
With only 60 calories a serving, Prosecco is a perfect low-calorie bubbly beverage for the holidays. Instead of fruity sugar mixed drinks, try vodka and raspberry flavored club soda for a low carlorie cocktail. Skinnygirl also offers a nice variety of low calorie wines and mixes. But remember alcoholic beverages are simply empty calories and added carbs. To truly avoid drinking, offer to be a designated driver.
Stick to your regular workout.
The best way to combat calories is to expend the calories. In between all the baking, shopping and wrapping presents, make sure you stick to your regular workout routine. Whether it's hitting the pavement, lifting weights or Christmas Crossfit WODs, be sure to carve out time for your workouts. Yoga is also a great way to destress during the holidays.
How do you avoid overeating during the holidays?
Before the holidays arriving, we will back to our regular dinner menu and enjoying lightened-up healthy meals. Here's what's on our dinner menu this week.
Sunday – Day-After Turkey Soup with Eat Smart Sweet Kale Salad
Meatless Monday – Potato Pancakes and a Mixed Greens Salad
Tuesday –  Ground Turkey Tacos
Wednesday –  Banging Baked Fish Tacos
Thursday –  Salsa Verde Pepper Jack Turkey Burgers
Friday – Publix subs before SeaWorld's Christmas Celebration
What's on your dinner menu this week? What interesting recipes are you pinning and planning?