Gung Hay Fat Choy!
While the Chinese New Year festivities may be winding down, we're still getting our Asian-fusion food on here! Of course, any food related event is always recognized and honored in some plated fashion in the Run DMT house. While the Chinese New Year play date days may be a thing of the past, we are still celebrating with some Asian-fusion wholesome good food.
These Asian-Style Sticky Ginger Grilled Wings are a favorite dish in our house whether it's Chinese New Year or just an average tailgating Sunday. Another blogger I know makes wings a weekly dinner which is a wing tradition I can get behind because these Asian-Style Sticky Ginger Grilled Wings are just that good!
Once Iron Chef Allan started a tradition of grilling wings, we permanently gave up fried ones for a healthier version. Honestly, with some charred delicious and the right sauce, you won't even miss those deep fried wings. I promise.
Iron Chef Allan has been playing around and perfecting his wing sauce for some time now and the results are a gorgeously sticky sauce with a nice heat combined with the right sweetness and tanginess. As the name suggests, it's chock full of ginger which adds a lot of fragrance and a little extra heat without overpowering the dish. And these wings pair perfectly with my Asian-Style Broccoli Slaw.
Before Iron Chef Allan grills our wings, he marinates the wings a lemon based marinade which produces a juicier, tender product no matter what sauce smothering the wings. The longer the wings marinade, the better and then will enjoy naked wings like my kids do or devour a wing almost as tasty as one blanket in Buffalo Sauce or Sticky Ginger Sauce.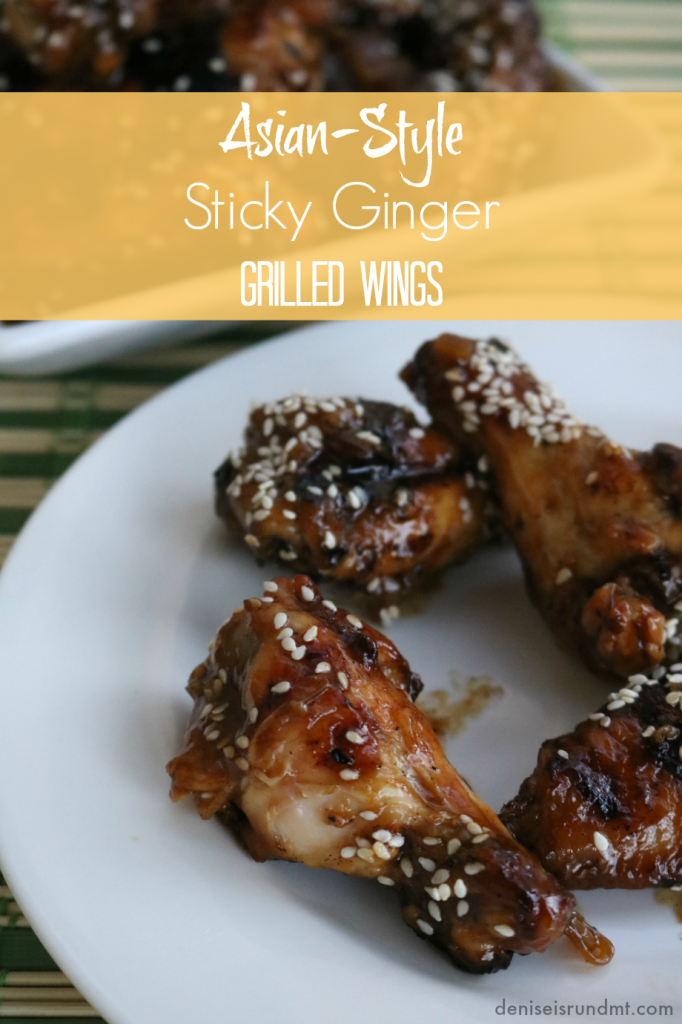 Lemon Juice Marinade
Cuisine:
grilled chicken wings
Prep time:
Cook time:
Total time:
A simple lemon marinade for chicken and wings
Ingredients
Juice of one lemon
2 tsp coarse salt
¼ tsp cayenne pepper
½ tsp onion powder
3 garlic cloves, minced
2 Tbsp olive oil
Instructions
Add ingredients to a Ziploc bag and massage into wings or chicken breasts.
Seal and store in fridge for about an hour.
Asian-Style Sticky Ginger Grilled Wings
Prep time:
Cook time:
Total time:
A sweet and savory wings sauce with some heat.
Ingredients
50 wings (about 4 lbs)
¼ cup bourbon
¼ rice wine vinegar
½ orange juice
¼ brown sugar
¼ low sodium soy sauce
2 Tbsp toasted sesame oil
1-inch ginger, grated
1 garlic clove, grated
¼ tsp red pepper flakes
1 bunch scallions (white and green parts), sliced
1 Tbsp corn starch
¼ water
1 Tbsp sesame seeds
Instructions
Rinse and dry wings with paper towels. Add wings and lemon marinade to Ziploc bag; shake well. Marinade for at least an hour, up to 4 hours.
Prepare grill by spraying it with nonstick cooking spray. Preheat grill at lowest heat.
Once grill is hot, place marinaded wings on grill skin side ( or fat side) down and cook until fat is rendered and wings are crispy. Flip and cook other side until crispy. Once wings are crispy, remove from grill and place in a large bowl.
While wings are grilling, combine sauce ingredients to saucepan (except for cornstarch and water). Bring sauce to a light simmer.
Once wings come off the grill, make a slurry with the cornstarch and water. Add slurry to simmering sauce and bring to a boil. Pour sauce over the wings and toss through until covered well. Sprinkle with sesame seeds and serve.
Serve wings with Asian-Style Broccoli Slaw.
How is your family observing Chinese New Year?
For more Chinese New Year foodie delights, check out my Asian-Style Broccoli Slaw…
or my Sesame Noodles…
or Quinoa Unfried Rice …
link