The last couple of weeks have been pretty crazy between Halloween related shenanigans and Allana's 14th birthday. To be completely honest, there was quite a bit of dining out and very little meal planning when I probably needed to meal plan the most. However this week, I'm back on track and back to plan our favorite healthy meals.
But first, my family and I enjoyed one last meal out on the town Saturday evening. With this unusual November heat wave and perfect beach weather, we planned an afternoon at Clearwater Beach and dinner at Frenchy's Rockaway to watch the sunset. If the heat is here to stay, then we might as well enjoy the extra beach days until fall really arrives.
Last Sunday, my friend Raffi, tweeted me about her delicious golden Mojo roasted chicken which had me craving Mojo-Marinated Chicken. We haven't eaten that meal in ages.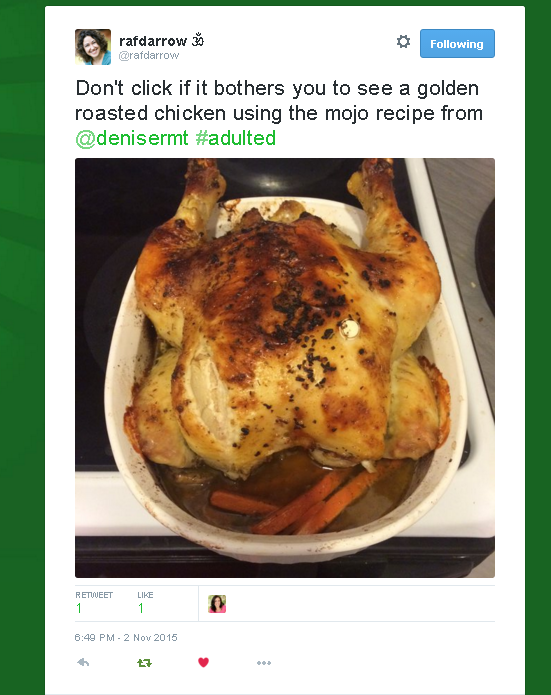 Throw a pot of beans on early in the morning, marinade the chicken for a few hours and the results produce a perfect Sunday Supper healthy meal. A huge pot of black beans makes wonderful leftover such as black bean quesadillas or even a healthy hot lunch chockfull of protein for my little vegetarian.
With a little planning, I already feel better about this week's dinner menu.
Here's this week dinner menu:
Sunday – Mojo-Marinated Grilled Butterflied Chicken with Black Beans and 1967 Arugula Salad
Meatless Monday – Saag Aloo and Kachumber Salad
Taco Tuesday – Ground Turkey Tacos
Wednesday – Skinnytaste's Orecchiette with Chicken Sausage, Baby Kale and Bell Pepper  (The Skinnytaste Cookbook but a similar recipe can be found here.
Thursday – Black Bean Pepper Jack Quesadillas
Friday – Pizza and a Mixed Greens Salad
What's on your dinner menu this week? What healthy recipes are you pinning and planning? 
Follow Run DMT on Pinterest for more kid-approved healthy recipes and healthy living tips.