Jump to Recipe
During my Fat Loss Lifestyle School journey, I have learned some really fantastic fat loss related lifehack tips. One of my favorite tips I learned during quarantine when foods were scarce and hard to find in the grocery stores was to stock up on frozen proteins, such as seafood.
That tip was such an A-HA moment of me and has been a lifesaver when I need protein in a pinch or my kids want eat mac and cheese for dinner and I need a little more subsistence. That frozen seafood tip will be one that I will carry on long after Covid!
With that frozen seafood tip, I went one step further and started buying frozen vegetables to have on hand. Since my family does not always like the same vegetables I do, I could heat up some broccoli or rice cauliflower and toss it into my meal whenever I needed some extra greens.
Next to riced cauliflower, my latest new favorite frozen vegetables to have on hand is a bag of frozen peas. Just like the frozen seafood, I have a watery, starchy carbs high in fiber in a pinch to add to any meal.
Recently, in my craving for seafood and one of my favorite Spanish dishes, I decided to try to whip up some paella.
Jump to Recipe
One-Pan Low Carb Shrimp Paella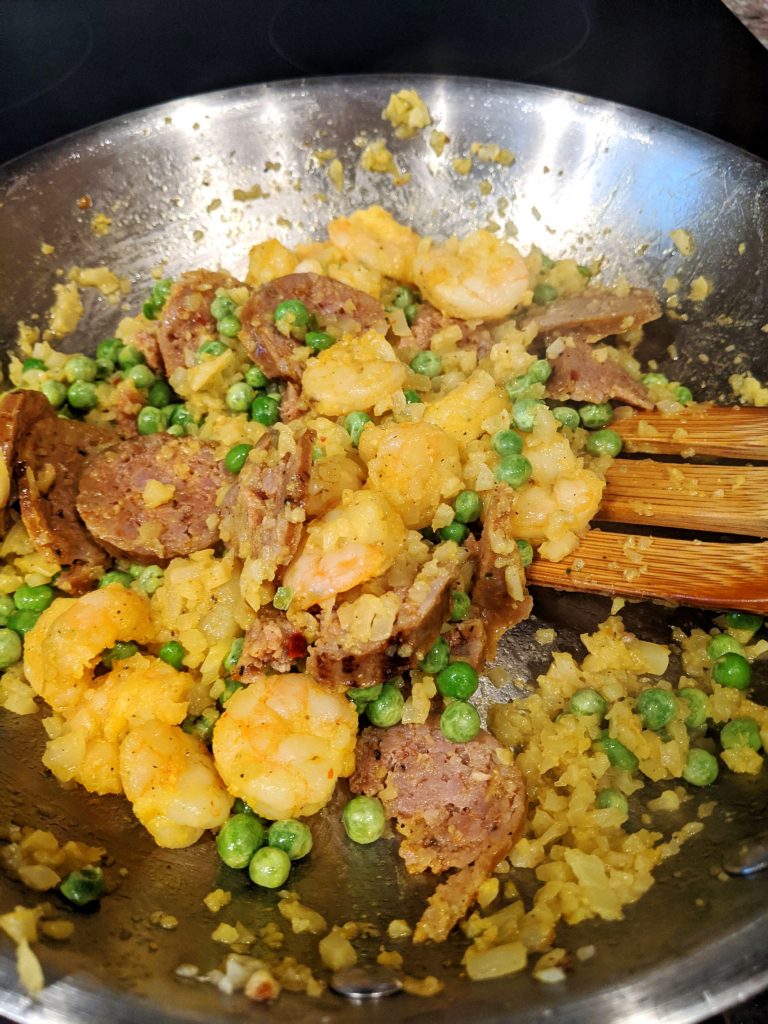 In addition to the shrimp, I will add different proteins. To replicate a healthier paella, my favorite protein to add is one chopped link of Italian chicken sausage, which I also keep in my freezer. Sometimes, I will chop up a leftover chicken breast or chicken thigh and toss it into the mix.
Since I'm the only one in my house who will eat this dish, this paella is a serving for one, but you can easily double or triple the ingredients to make it for your family.
One-Pan Low Carb Shrimp Paella
A simple and quick low carb shrimp paella that can be thrown together with ingredients in your freezer and pantry.
Ingredients
1

Tbsp

avocado oil

1

Tbsp

garlic, minced

½

tsp

salt

¼

tsp

black ground pepper

1

tsp

turmeric

½

yellow onion, diced

2

cups

frozen raw, deveined tail-off shrimp

1

cup

frozen riced cauliflower

¼

cup

frozen peas

1

link

Italian Chicken sausage, sliced
Instructions
Defrost shrimp under cool water. Do not microwave to defrost.

Heat avocado oil on a medium heat. Add ½ onion and sauté until translucent

While the onion sautés, microwave riced cauliflower for 1 minute on full power to defrost it but not cook it.  

Add garlic and sauté until fragrant, about one minute.

When garlic is golden brown, add shrimp cook until pink.

While sautéing the shrimp, heat the peas in the microwave on full power for 30 seconds.

When the shrimp is pink, mix in riced cauliflower and turmeric. Add sliced Italian sausage; warm through.

Add peas and fold into dish; salt and pepper to taste.

Once everything is well combined, removed from heat and serve.

Top with hot sauce for added heat.